When it comes to decor we have long been interested in rediscovering classic, traditional and ancient styles. Sometimes we amalgamate the modernistic with the classic to create new themes and styles but a nod to the decorative designs our ancestors conceived of is most definitely prevalent. Archaeology has uncovered more ceramic artefacts than any other kind and they have proved to be crucial for understanding technology and culture. The more we learn about our ancestors the more we understand their processes of creation which breeds respect for their incredible innovation and creative power. Any artistic professional has a thirst for knowledge and insight as it makes it so much easier to recreate and improve upon the great works of those before us.
Within art history ceramic art refers to specific works of art such as figurines, tableware and tiles. The process of using ceramic tiles for floor and wall decoration and covering has been in existence for literally centuries and is deeply embedded within rich culture worldwide. Tiles of course fall into many categories such as aesthetic and functional and it is the numerous benefits they offer that make them such an appealing choice. Being so incredibly resistant to moisture, they have always been perfect for the areas around swimming pools and luxury indoor baths. Their durability ensures many years of protection even in areas of high water usage. These days of course we are not all fortunate enough to be furnished with large baths and pools, but for modern bathrooms and kitchens we are blessed with extensive choice when it comes to classic and contemporary tiling.
Ceramic is an incredibly popular option for both floor and wall tiles due to its affordability, beauty and durable properties. For floor tiles, stoneware is a durable option as well as being outstandingly easy to clean and maintain. All these kinds of tiles are available in a wide variety of colours, styles and effects from stylish and smooth block colours, to irresistibly touchable textures, to glittery and patterned effects. From the areas that housed the baths of milk for Cleopatra, to the more modest bathrooms and kitchens we inhabit today, tile has always been and will remain an incredible choice for coverage, optimal style and of course long lasting protection for walls and floors of all kinds.
The kitchen is one of the most important rooms in the home; it's where we prepare food, eat, drink, socialise with our families and entertain our friends, so it sees a lot of use every single day. Unfortunately, this can also mean that wear and tear takes s its toll quicker than it does in other rooms of the house. In order to keep your kitchen in top condition, you need to decorate and maintain it in the right way. Tiles can help you to protect your kitchen and make sure that your floors and walls are not damaged by common issues such as food and drink spillages, water and people walking dirt into the room.
One great way to defend a vulnerable area of the wall is to install a splashback. This is a protective area of tile, glass or other material which is positioned behind the sink, behind the cooker, or along any part of the wall that you want to protect. We have a selection of specially designed kitchen splashbacks, as well as a huge range of different tiles which are perfect for creating a protective tiled area on your kitchen wall.
Our tiles are strong, durable and built to last, which means you will get years of use out of them. However, splashbacks don't just have to be purely practical; they're also an opportunity to add a real touch of colour, personality and great design to your kitchen.
– To add a bit of interest to the design, why not try fixing them to the wall in a different way? You could lay affix square tiles diagonally to the wall for a diamond-pattern effect, or lay brick tiles diagonally for a herringbone look.
– Be creative with colours. We offer many splashbacks in vibrant, bright hues including bright jade, magenta and red, which will make a real statement against the backdrop of your kitchen. Alternatively, you could use neutral tiles as your backdrop and add an unusual twist with coloured grout.
– Get creative with mosaic tiles. You could create a pattern or picture using different coloured mosaic tiles or simply use mosaic tiles all in the same colour for an unusual yet unified effect.
– Try tiles with different effects. In our online shop you will find beautiful textured tiles, smooth glass tiles which will offer maximum beauty with minimal maintenance, and even glittery border tiles which will create the perfect finishing touch in your kitchen.
The texture of your tiles can be just as important in creating a look or an atmosphere in a room as the colour. There are so many different materials to choose from when it comes to tiles, from ultra-smooth glass to rough and rustic stone and everything in between. When you are tiling a room you will always need to take this factor into account before deciding which tiles you want to invest in.
Your tile texture will depend on the type of effect you are trying to create in the room. Stone tiles with a slightly rough texture will look stunning in a natural, rustic themed room, metal tiles look sleek and contemporary, ceramic tiles look sleek and clean, and smooth glass tiles reflect light back into the room with an array of stunning colours. If you prefer neutral colours, you can use mosaic tiles or another type of tile with an interesting texture to create a contrasting feature wall without having to use different colours.
The right texture of tile will add greatly to the overall visual effect and by playing with a variety of different textures in a room, you can create some truly beautiful effects – for example, a rustic slate tiled floor topped off with a soft rug will make any room feel really luxurious.
Not only does the texture of a tile add to the room's tactile and aesthetic appeal, it can also have real practical benefits. Tiles which have a fairly rough or rustic texture are good choices for floors, as they add more traction and can help to make the room safer. Whether you need tiles for your bathroom floor and are concerned about your children getting out of the bath with wet feet or requiring kitchen tiles that you can walk on with wet shoes after coming in from the rain, a textured tile floor will give you more peace of mind knowing that the chances of slipping over have been minimised.
There are so many possibilities to be enjoyed when it comes to decorating and choosing a theme for your bathroom, particularly when you have a selection of beautiful tiles available to buy from The English Tile Company. Here are some of this year's most exciting design trends and ideas for transforming even the dullest bathroom into a stylish and practical haven you'll never want to leave.
Wetrooms
A wetroom can feel so much more luxurious than a standard shower cubicle – by tiling the room to make it waterproof and installing an overhead shower, with or without a separating screen to divide it from the rest of the room, you can create a uniquely stylish oasis where getting clean becomes a real pleasure.
Rustic and natural
Give your bathroom some real character with touchable textures, earthy colours and quirky touches using accessories picked up on your travels. Beautiful wall and floor tiles in materials like rugged porcelain or slate will make bathtime into a real pleasure and feel fantastic against your feet. Add some wooden accessories, rocks, driftwood, and shells collected from the seaside, and your rustic bathroom is complete.
Mosaic patterns
Mosaic tiles are the ideal choice for anybody who wants to create a truly one of a kind design. You can go as subtle or as bold as you like in your design – the possibilities are absolutely unlimited when you're using mosaic tiles in different colours and patterns. You can make a real statement with intricate patterns and vibrant colours, create a sophisticated bathroom with clean geometric patterns or make a more subtle statement with neutral colours combined with little splashes of colour, texture or even glitter. The choice is completely up to you.
Monochrome
Clean, minimal and simple monochrome themes will look stunning in any bathroom and will never go out of style. Sleek, contemporary tiles in shades of black or white combined with metal accessories and large mirrors will keep things classy and give a feeling of real quality and luxury – you'll feel as if you're bathing in a five-star hotel.
The history of decorative tiles is an extensive one, one that is marked by periods of waning and revived interest. Roof tiles have been around for many thousands of years, used in places such as Egypt and Ancient Greece for decorative and functional purposes. Tiles for a purely decorative and aesthetic purpose date back many thousands of years, back to at least the 13th century BC where they were used to design beautiful pieces of art in Assyria, Ancient Mesopotamia, Babylon, Persopolis and ancient Sri Lanka. However, these decorative practices weren't widespread and mostly confined to grand projects and decoration of prominent and important buildings.
In Rome, small tiles of differing materials were used in the construction of large, decorative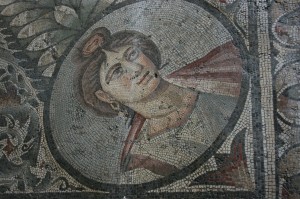 mosaics. This technique was pioneered by the Greeks who also utilised the technique to create beautiful scenes and pictures. In the 5th century, with the growth of the Byzantine Empire, the Roman and Eastern techniques were combined to create breathtaking pieces of art. Tiles, however, remained relatively unknown in the West. In the East, in areas such as Tunisia and Iran, tiles were used for decorative purposes. They were often used in mosques, displaying Koranic and Kufic inscriptions on vivid tiles.
From the 10th century onwards, tiles became more common in Western Europe, with large masterpieces being created from them. However, they were extremely expensive, which limited them to only the wealthiest properties and churches. Decorative tiling experienced a new surge in popularity when Moorish invaders, in Islamic Spain, brought along their techniques. These tiles and techniques spread throughout Europe, especially throughout the 16th century, used in palaces and mosques. Hand painted and decorated tiles especially came into vogue as trade opened up around the world in the 16th and 17th centuries. In the 17th century, the United Dutch East India Company imported Chinese porcelain which brought tiles into the limelight as everyone desired this hardy and beautiful material. Inspired by this, Dutch artisans in the town of Delft created Delftware, a superior and equally beautiful product which could be decorated to a high standard. These tiles were incredibly popular, being shipped around the world.
It was during the Victorian era that tiles experienced a resurgence of popularity due to the fact that they could now be mass-manufactured as the industrial revolution began to pick up steam. This era also brought back the method of encaustic engraving on a mass scale, allowing for practically every building to benefit from these strong and strikingly decorated tiles. Around this time, decorated wall and floor tiles came into general use, though wealthier families could also benefit from tiles which were hand-decorated.
Today, most tiles are mass-manufactured and readily available to the public without them being prohibitively expensive. Glazed tiles have come into common use, being used in kitchens and bathrooms thanks in part to their durability. Though bespoke, handmade tiles remain a more expensive option due to the craft that goes into them, they are still available to buy. There are many options including ceramic, glass, metal and brick tiles and different materials are often combined to create unique looks. Today, tiles can decorate everything from walls to floors and can be used more extensively than their forebears.
Ceramic tiles and, more specifically, glazed ceramic tiles are incredibly sought after for use in the home. These tiles have been covered with a glaze and fired at high temperatures, resulting in a tough, attractive coating which is available in a wide variety of different finishes from matt to glossy. They can be used almost anywhere, from floors to walls to splashbacks to creating decorative accents in any room in the house. These kinds of tiles don't just offer a brilliant aesthetic, but they are also very practical, offering a number of benefits.
One of the main advantages of glazed tiles is that they are very simple to clean, due to their resistant coating. This makes them particularly useful in areas such as the kitchen which can be prone to getting dirty. It usually only requires a quick wipe with a cloth to swiftly clean the dirt away. The glazing of a ceramic tile also means that it can repel water with ease: water won't stain it or cling to the surface but will simply roll down the protective glaze, making them ideal for wet areas such as bathrooms. In a similar vein, they are also resistant to heat, which makes them a popular option for areas such as around ovens.
Of course, when it comes to choosing tiles or your home, aesthetics are just as important as practicality. Glazed ceramic tiles are available in a wide variety of colours and patterns thanks to the fact that the colour or pattern generally comes from the glaze applied to the tile. You can find everything from plain, vibrant block colours to intricate patterns and images, allowing for endless design variations and a truly personal touch.
On top of this, they are also generally inexpensive, making them affordable for everyone who wishes to give their home an aesthetic boost. The materials that they are made of, generally clay with perhaps only sand or glass added, also makes them environmentally friendly, something which still holds true as most tiles are glazed with natural glazes.
A lot more practical than many other types of tile choosing glazed ceramic as the material for your kitchen tiles or bathroom tiles is a good choice to make. From the low cost to the ease of replacement, choosing a glazed ceramic tile is something that can save you money in the long run on constantly replacing or repairing your tiles.
Ceramic tiles can be one of the most rewarding additions to your home. However, once they have actually been installed, it's crucial that you take care of them properly and keep them clean in order to truly benefit from their beauty and practicality, as even the best quality tiles can deteriorate without care. Here are some of our tips for ensuring that your tiles can continue to look their very best for years to come.
– Floor tiles in particular can collect dirty quickly, especially in high-traffic areas such as the kitchen or bathroom, where many people are walking through and using the room every day. Dirt can adhere to the surface of tiles, particularly if they are textured, so you will need to regularly sweep and vacuum your tiled floor in order to get rid of this loose dirt. Mild soap and water can be applied to the surface of your tiles every so often to keep them looking fresh; there's no need for abrasive scourers or brushes as these could scratch the surface of your tiles. A bit of regular vacuuming and cleaning with a cloth or mop will keep your tiles looking their best.
– The grout in between the tiles can be more susceptible to stains such as food spills than the tiles themselves. It can also start to lose its lustre due to age. If your grout needs some attention to get back to sparkling white, there are several ways to restore it. There are various brands of grout cleaner and specially designed grout brushes available. Some of these cleaners have anti-fungal ingredients to prevent a build up of mould in warm, steamy areas such as bathrooms. Bleach can be used on white grout but may discolour other kinds of grout, so use with caution. You can also try home made cleaning products such as a mixture of baking soda and vinegar.
– Good quality tile sealants will help to protect your tiles and grout and keep them looking clean. Applying this sealant is a simple process and it offers outstanding results for a very affordable price. The initial step is to quickly clean the surface and remove any dirt or debris before applying the coating. Once satisfied, apply the sealer evenly. This will create a coat over the top of the floor and help it to last longer.
Mosaic tiles are a popular choice when people wish to give their rooms an aesthetic boost. Used anywhere from walls to floors and in rooms including kitchens, bathrooms and hallways, mosaic tiles offer a distinctive look few other types of tile can match. The myriad of materials that can make up a single mosaic makes for a very distinct style and our durable mosaic tiles offer both beauty and practicality.
Mosaic tiles, it cannot be overstated enough, can be very beautiful. When placed onto a wall, they provide decoration that is distinctively beautiful. They can be laid out in a regular pattern or used to create distinctive and unique designs – it's completely up to you when you are working with mosaic tiles. Their versatility is just one of their excellent qualities and the reason that so many people opt to use them in their homes.
Many mosaic tiles offer different patterns which are inlaid into the tiles, something that provides an even more dynamic aesthetic. With iridescent colours, different textures and a huge variety of shades to choose from, you can create a truly stunning effect in any room in the house.
Our mosaic tiles don't only look great but are also highly durable, giving you years of use. Materials such as metal and stone ensure that the tile is hard-wearing. If the raw materials used are glazed as well, this also means added durability for the tile, reducing the chance of a breakage. On top of this, they are easy to clean and maintain. Materials such as glass and metal can simply be wiped clean while raw materials such as stone and porcelain are often glazed, making them very simple to clean.
Mosaic tiles offer flexibility in design like no other and are the perfect choice for those who really want to put their own stamp on their home decor. With so much choice and irresistible colours and textures of all types, we pride ourselves on offering the most beautiful selection of mosaic tiles.
Glass tiles are becoming increasingly popular due to their beauty, their strength and durability, the welcoming and fresh ambience they create, and the many different colours and designs they offer. Of course, people have been using glass in many ways for thousands of years, including the use of glass tiles to protect and decorate various different surfaces in the home.
Historians have highlighted the fact that man was manufacturing glass 4000 years before Christ. The innovation of human beings never ceases to be staggering and it is one of the integral contributors to our incredible progress as a race. Man's first attempt at glass making was to use a glaze to coat stone beads. There is a natural form of glass that forms when lava is extruded from a volcano and then swiftly cools. This volcanic glass is called obsidian and it is used in the production of ornamental glass products, gemstones, tiles, and other beautiful items.
Glass tile itself possesses many advantageous inherent properties such as the ability to bestow colour, reflect light, and allowing light to shine through. Glass tiles have a texture and look like no other; they give a light, fresh and clean effect to a room and with their light reflecting qualities they can even seem to glow, a particularly stunning effect when vibrantly coloured glass tiles are used. Not only do glass tiles offer many aesthetic benefits, they are also extremely practical as they are resistant to moisture and easy to clean and maintain. These elements combined with breakthroughs in technology and materials make glass a perfect choice for tiling, particularly in areas such as kitchens and bathrooms where these types of qualities are in high demand.
With the use of modern glass tiles which are made from highly durable materials, we can now protect our homes from damage and wear and tear from water and moisture, as well as creating the most sensational selection of aesthetic themes. Glass tiles can transform any room into whatever we desire and create a sense of atmosphere that is unique to us and the internal aura of our homes.
Ceramic tiles are amongst the most hardwearing materials you can choose for walls or floors. They have unparalleled visual appeal, are amazingly durable, and are very easy to take care of. The various textures and colours available also set them apart and above other alternatives. In terms of design there is no other material that gives you such an opportunity to create your own features. They are particularly good for kitchens and bathrooms where there is moisture and different temperatures to contend with. A big advantage of ceramic is that it won't change shape in hot or cold conditions.
Tiling is much more hygienic than alternative floor and walling covers because bacteria can't stick to or get trapped on the surface. Where carpets, wallpaper and even painted walls can get stained and soiled tiles are very easily wiped clean. They don't require any specialist cleaning products to clean so are very cheap to maintain. The only worry is taking care of and replacing grouting regularly. If you don't clean and replace the grout you can quickly find that it has turned black and mouldy.
Ceramic tiling is one of the most durable materials you can choose because it is resistant to abrasion, moisture, chemicals and temperature changes. It has very low porosity so water won't damage them as much as alternative items. They are not completely waterproof though so if you are using them in a wet room you should consider installing an extra layer of protection on the surface before you fit the tiles. These systems are relatively inexpensive and will protect you against any problems.
The biggest advantage of ceramic tiles by far is the colour. There are a huge range of different colours, styles and sizes available so you can create your own unique feature if you have the time and creativity. Unlike other types of tiling the colour won't fade with exposure to sunlight and each tile should retain a great finish regardless of how long they are exposed to UV.
An important thing to remember before settling on the tiling you want is to check the quality. Cheap, low quality pieces are easy to spot because they are normally much thinner and feel more brittle. Well made tiles are the best choice as they will last longer and withstand wear better.