Mosaic bathroom tiles are heavily inspired by the ancient art of making beautiful images by assembling small pieces of coloured glass or stone that was first seen in ancient Mesopotamia around the time of 3000BC. These days, mosaic tiles are often found in bathrooms and kitchens. The style has made its way through time and arrived in the 21st century as a modern style icon for contemporary homes.
The English Tile Company have taken this timeless style and made it fit into the bathroom world with ease and style. Our range of mosaic, brick, slate, glass and stone bathroom tiles can provide any tiled room with a great amount of style. Our website has a massive range of tiling in several styles and colours, including options that deliver different effects and textures. Mosaic tiles featuring small pieces of glass and stone can be used to create a beautiful feature on any bathroom wall. When the light hits the tiles it creates a stunning affect that no other tile or wall cover can beat.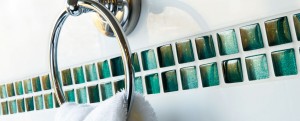 Browsing our website and finding great products has never been easier. The range of tiles is mapped out clearly and features pictures so you can get an idea of colouring. You can browse to your heart's content and find details about each individual style. If you would like to see how products will look in your home you can order samples from us.
The English Tile Company is happy to provide design advice and discuss the benefits of mosaic tiles with you. We are confident that our selection is the best in the UK, both in terms of the quality and the prices. If you have any special requirements please give us a call at 08452 076414. We are happy to speak to you about our products and tiling in general.